If you are a business owner interested in advertising in Los Angeles, we invite you to contact us for an initial consultation.
At Revenue Increasers, we are confident that no other Los Angeles marketing agency does a better job of merging a sharp business acumen with an eye for what works visually and thematically. Our Los Angeles advertising campaigns are effective, far-reaching and carefully crafted to match the needs and desires of each client.
Advertising in Los Angeles can be overwhelming. As the entertainment capital of the world, there are countless outlets for advertising. Do you advertise on TV or the radio? Would your advertising dollars be better spent on a print ad campaign? What about a billboard campaign?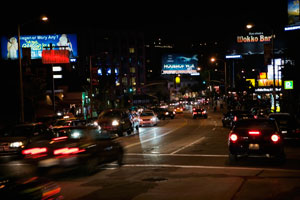 If you have questions about advertising in Los Angeles, Revenue Increasers stands ready to help. We have helped dozens of companies with their marketing in Los Angeles. Our list of clients ranges from small business owners with limited marketing budgets to large corporations with advertisements all over Los Angeles.
At Revenue Increasers, we understand that successful marketing and advertising projects are predicated on increasing our clients' conversion rates. In order to improve your bottom line, every one of our Los Angeles advertisements is custom tailored for your business.
Far too many advertising and marketing agencies in Los Angeles offer the same cookie-cutter solutions to your business. At Revenue Increasers, we understand that each campaign is different. Marketing in Los Angeles is not a science; it is a delicate ballet, one that requires grace, improvisation and beauty.
Without a carefully conceived and effective marketing plan, you will be lost in the thousands of competing Los Angeles advertisements.
Our approach to advertising in L.A. requires us to gain a complete understanding of your business, goals and budget. From there, we draft a personalized plan designed to get you the best results for your marketing dollars.
Whether you need a billboard campaign that will display your advertisement throughout Los Angeles or would like to spend your marketing dollars on the Internet, Revenue Increasers is ideally suited for the job. As an interactive design agency, we are well-versed in online ad campaigns, social media management and pay-per-click campaigns.
If you are looking for one of the premier marketing agencies in Los Angeles, or have already tried using another L.A. marketing company without success, we invite you to contact us for an initial consultation.
If we don't think we are the right team to help you with your Los Angeles advertising campaign, we promise to let you know. Every employee of our company takes pride in our unblemished record of client satisfaction.
For premier marketing and advertising solutions in Los Angeles, Revenue Increasers is the clear choice. We look forward to hearing from you shortly.